Saved By Faith or Works?
For by grace you have been saved through faith, and that not of yourselves; it is the gift of God, not of works, lest anyone should boast. (Ephesians 2:8-9)
And the survey says...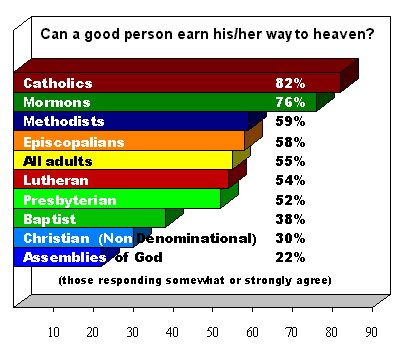 An overall majority of Americans say a good person can earn salvation. Even within Christian churches the percentage who agree should cause alarm. This nationwide survey (with a margin of error less than 1%), by The Barna Report (c) 1997, illustrates how many professed Christians are trusting in themselves for salvation. It's no wonder so many have little concern for witnessing and evangelism.
---
Written by Brent MacDonald of Lion Tracks Ministries. (c) 1998.
Feel free to duplicate as long as the source is cited.